Porsche 911 (991) Turbo S GB Edition 2014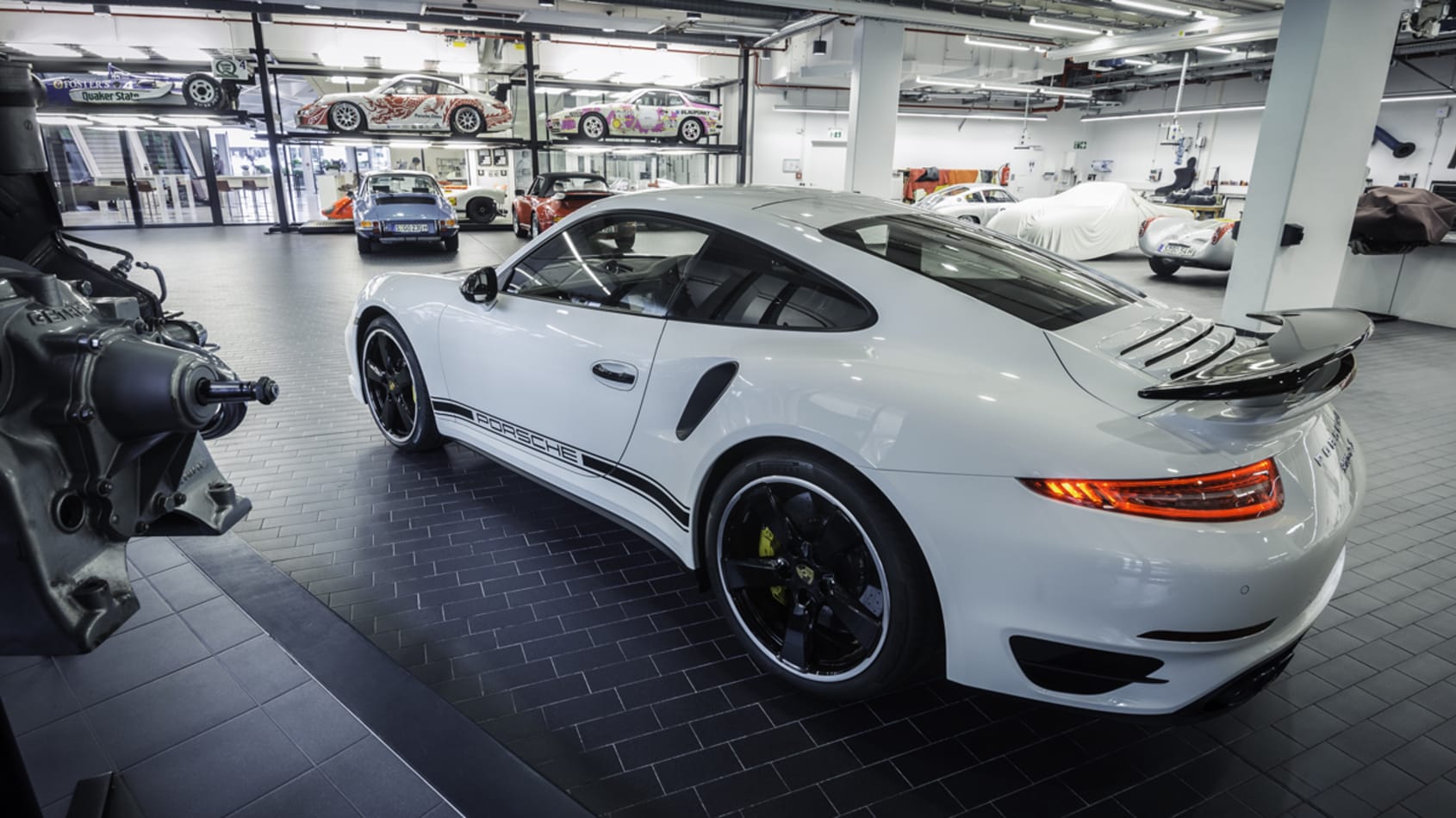 Something very special created for the British market and limited to only 40 vehicles is a must for the Porsche Enthusiast, behold one of the most rare models to be released, the Porsche 911 (991) Turbo S GB Edition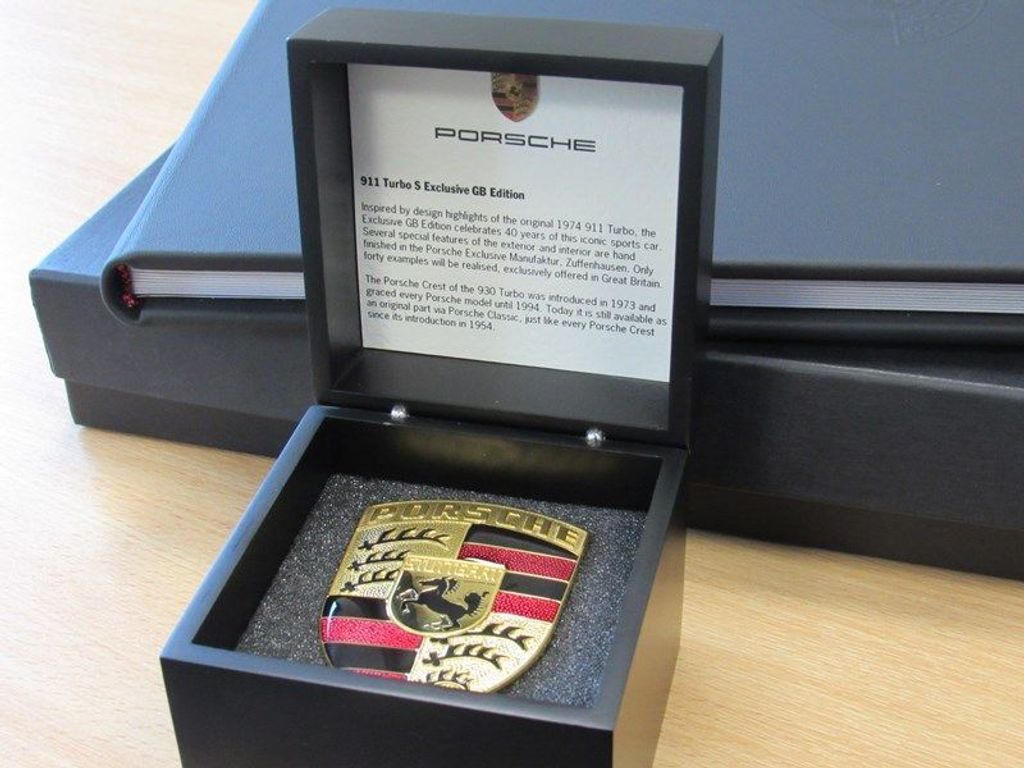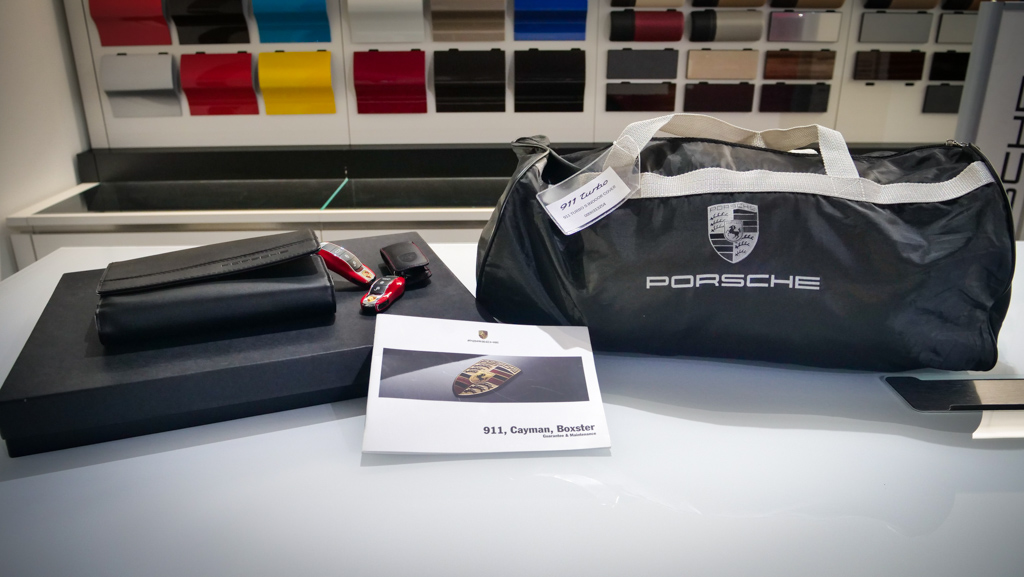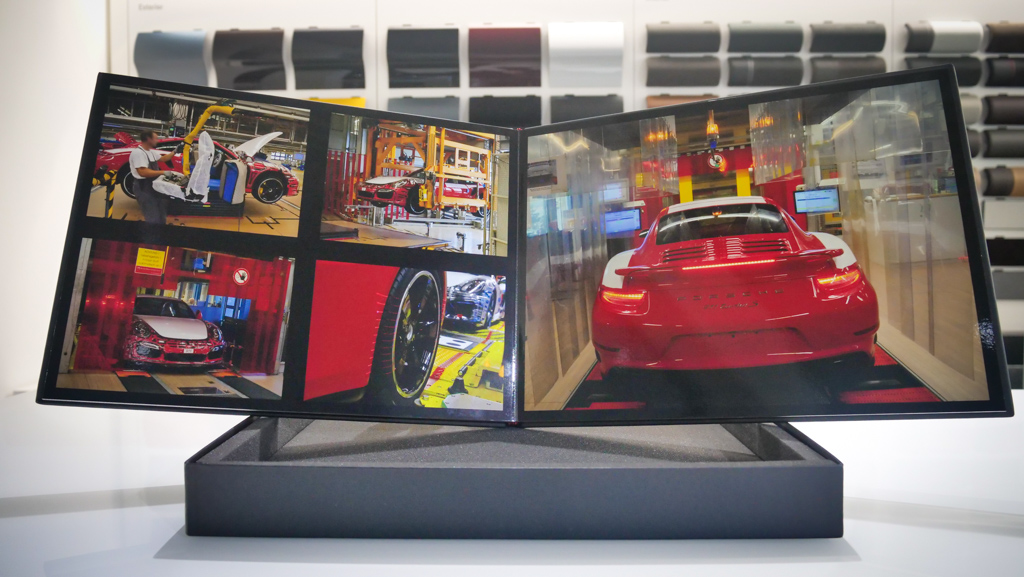 These exclusive GB Edition cars come with a personal photo album (like a wedding album but better) documenting the production process with unique design sketches and an Exclusive GB Edition indoor car cover. They also come up with a collectors Porsche Crest in a special box explaining why the model has been built making this documentation vitally important to stay with the car as this is a piece of Porsche history.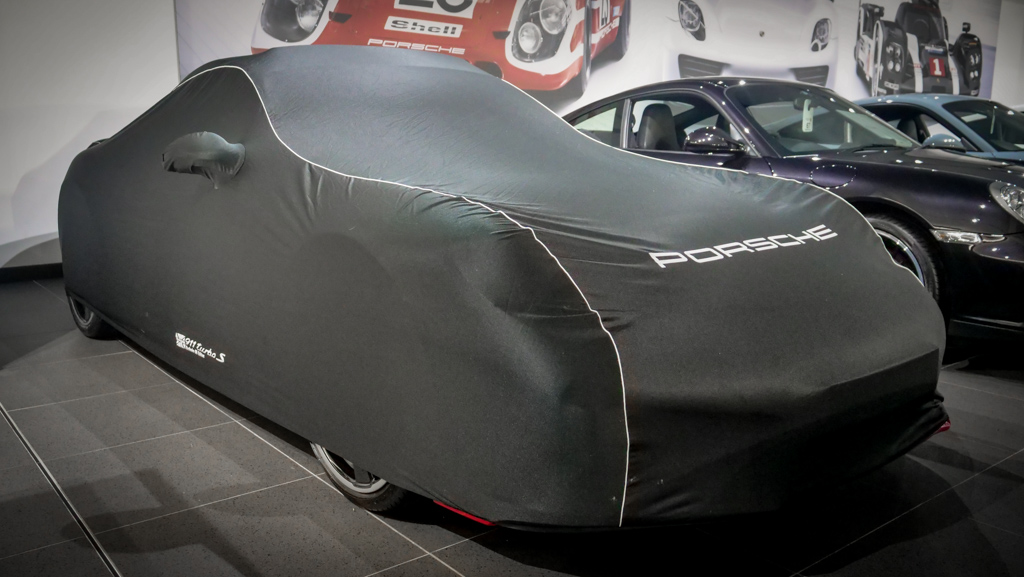 Whenever Porsche announces a limited edition, the majority of car world goes mad and then when you add to this that the vehicle is going to be a 911 Turbo S, one of the Worlds most amazing machines ever made, you simply have to take note.
This extra-special limited-edition version of the Porsche 911 991 Turbo S has been produced to commemorate 40 years of the 911 Turbo and built in the exclusive factory, this car has been named the "Porsche 911 Turbo S Exclusive GB Edition" and this is one very special car, unique to the UK market and only 40 cars will have been built making this one of the rarest specials built to-date.
The 40 number is not a randomly picked number, it is one car built for each year of Porsche's 911 Turbo's 40th Birthday and these are on special order. You can only purchase one if you having a special relationship with a main Porsche dealer in the UK and buyers will be buying a Porsche of history.
If you then think that Sytner has 6 dealerships and Stratstone have 5 dealerships, then the likes of Jardine Motors have 4 dealerships. This means that the 40 available build slots will be split be
tween the UK dealerships meaning that each dealer has up to 3 cars maximum to order if it is fairly distributed and only the select best customers can actually order one of these special cars. Porsche have also kept one for the Museum which leaves 39 available for actual ordering.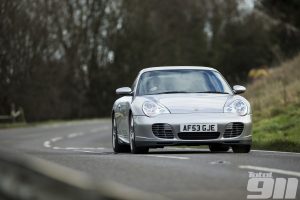 In 2003 Porsche did something similar celebrating 40 years of the Porsche 911 and they built in 2003 and 2004 a total of 1963 cars which was the year the 911 was introduced officially. All these cars built were available in only GT Silver Metallic which was a special colour only seen before on the Carrera GT.
As we all know, the 996 brought changes to the 911 with the headlights and the largest change of all with the car being water-cooled rather than air-cooled. This water-cooled debate is still alive in 2020 and the 996 has had a tough time. You can read a great article by Total 911 here.
---
This GB special edition is to represent the 40th Birthday of the Turbo model which is the iconic car that some consider the only true Porsche 911 and everything this time improved with the 991 derivative being the most advanced car Porsche have built yet and the Turbo S being one of the most powerful usable cars on the planet.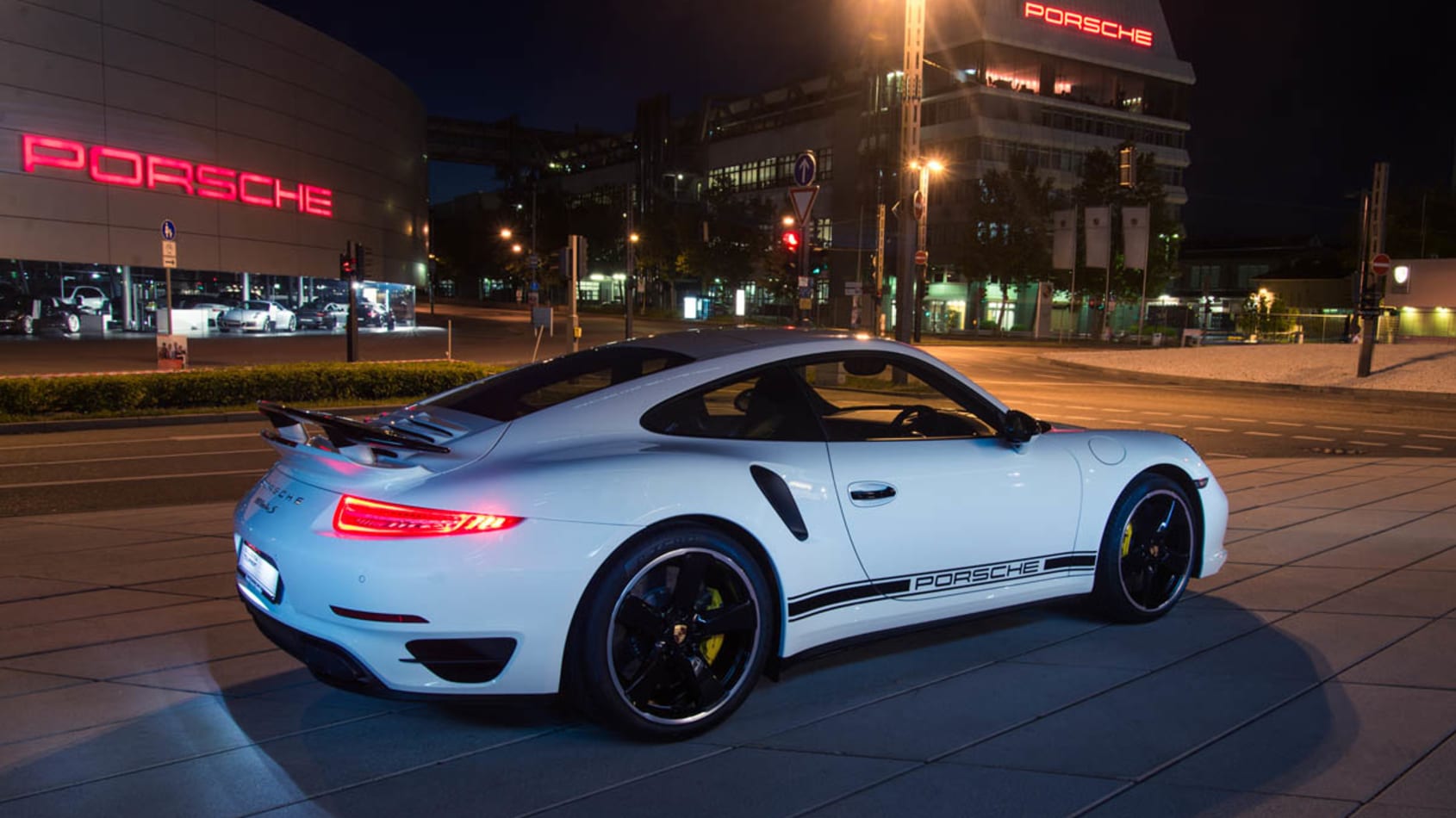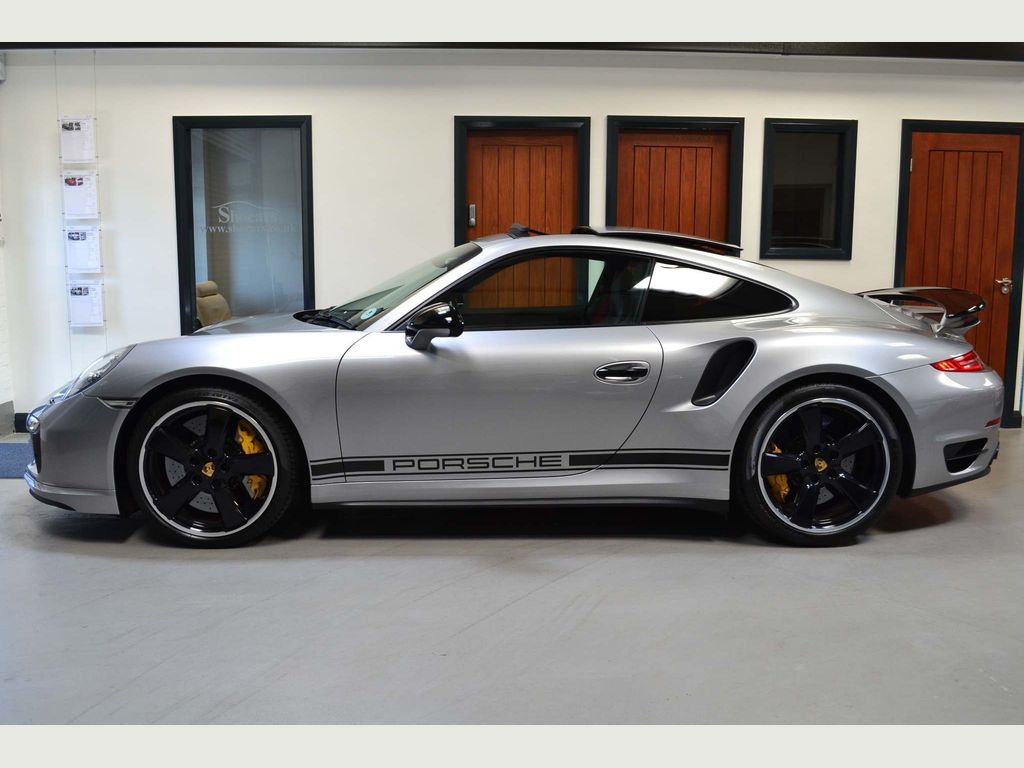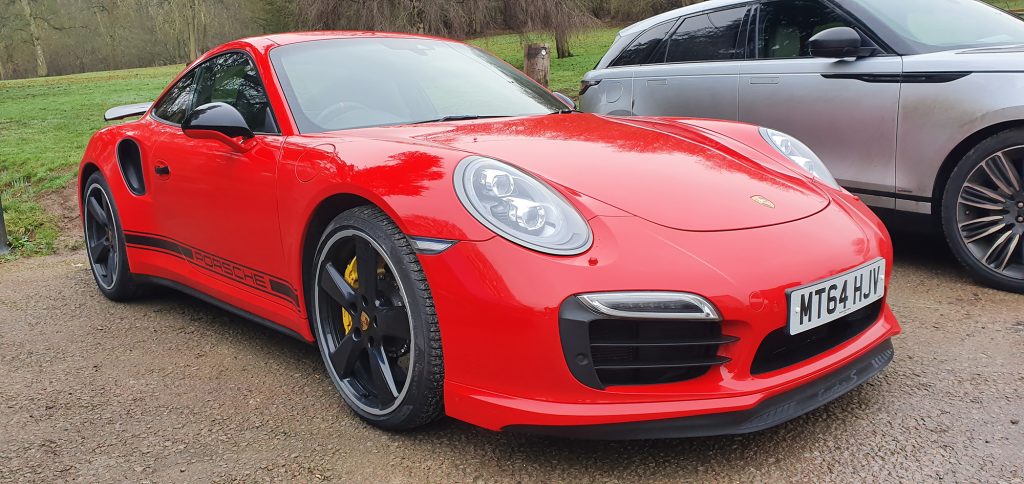 This 911 Turbo S Exclusive GB Edition is available in a choice of three exterior colours: silver, white or red.
Red being the quintessential colour of choice being as Porsche have selected the colour to be 'Guards Red' from the original 930 Turbo and all cars no matter what colour exterior you choose will be built with Black Leather Interior and 'Guards Red' stitching and red seat belts making the red cars a little extra special.
This amazingly special new 911 variant has been designed to incorporate styling from the original 911 Turbo '930' from 1974 featuring a bespoke black rear upper spoiler, bespoke designed Sport Classic wheels in black, black finished exterior door handles, and the black Porsche script along the sills.
A key factor for bragging purposes is when you open the doors the personalised carbon-fibre door sill guards with the words "911 Turbo S – Exclusive GB Edition" look stunning and to make this even more special it is illuminated signifying the true special edition nature of this model.
Another special addition is the dashboard has been decorated with an embossed Union Jack flag and the words "911 Turbo S – Exclusive GB Edition".
Then there is also an embossed Porsche crest on the head restraints of the amazing Black electric seats.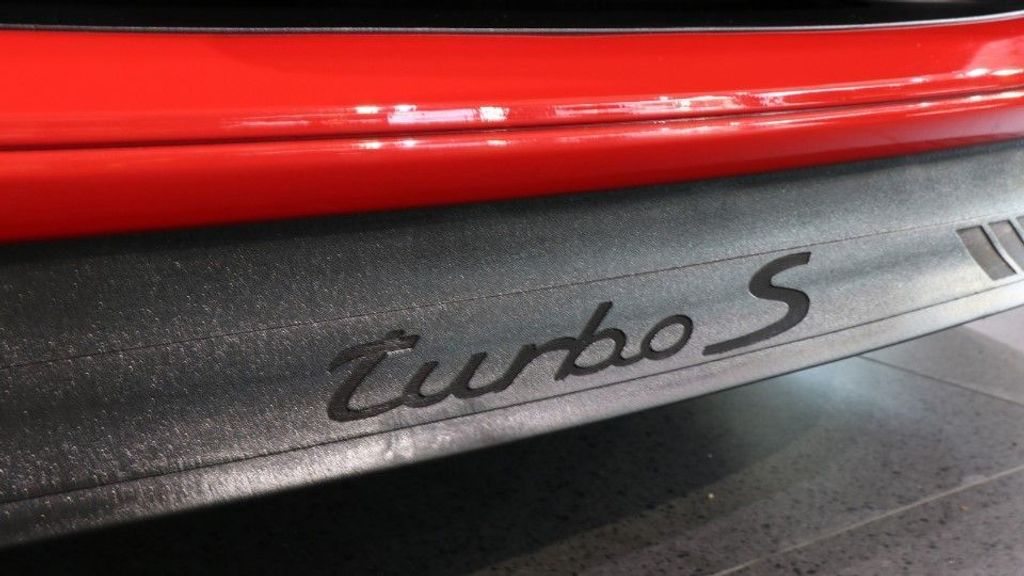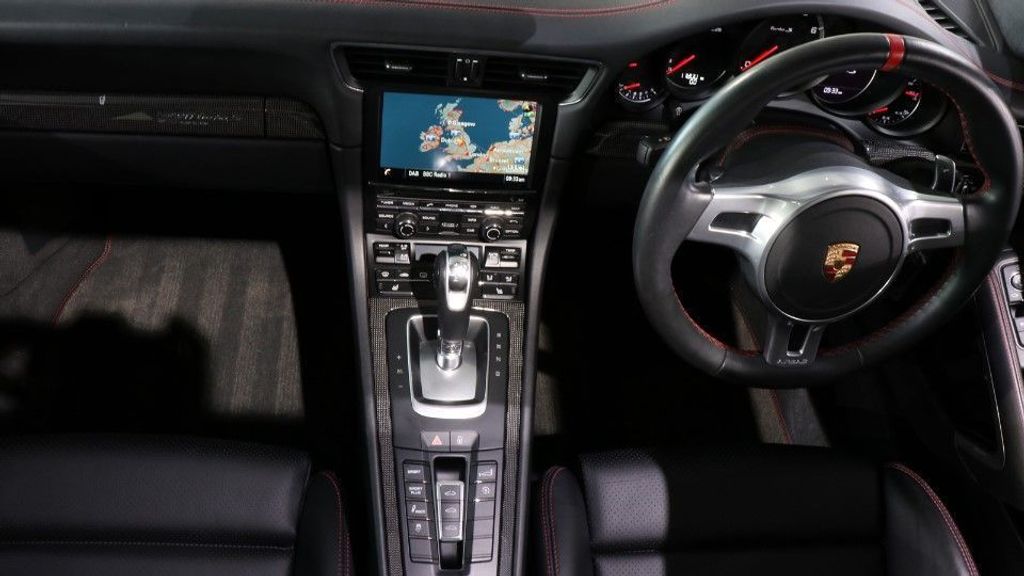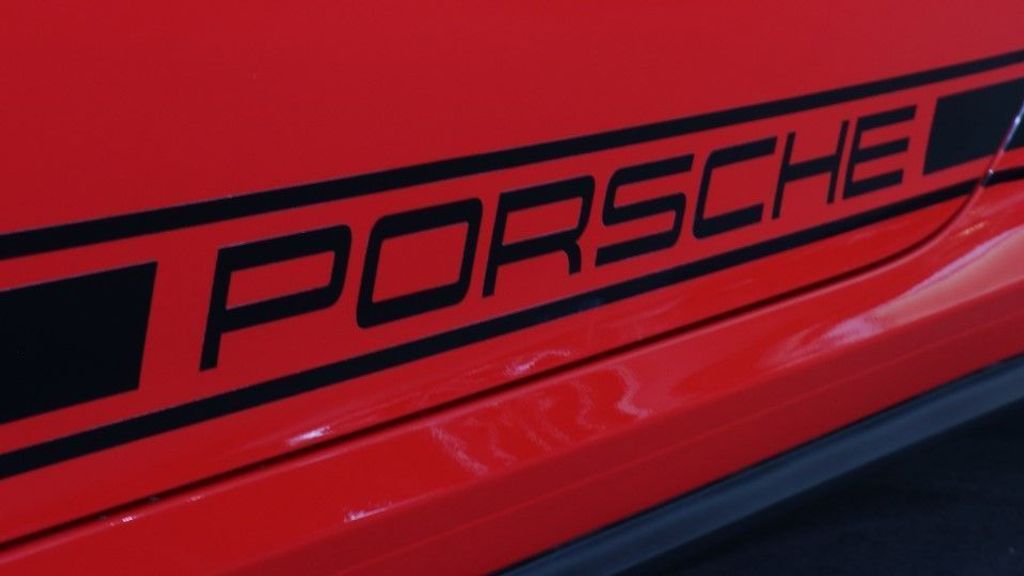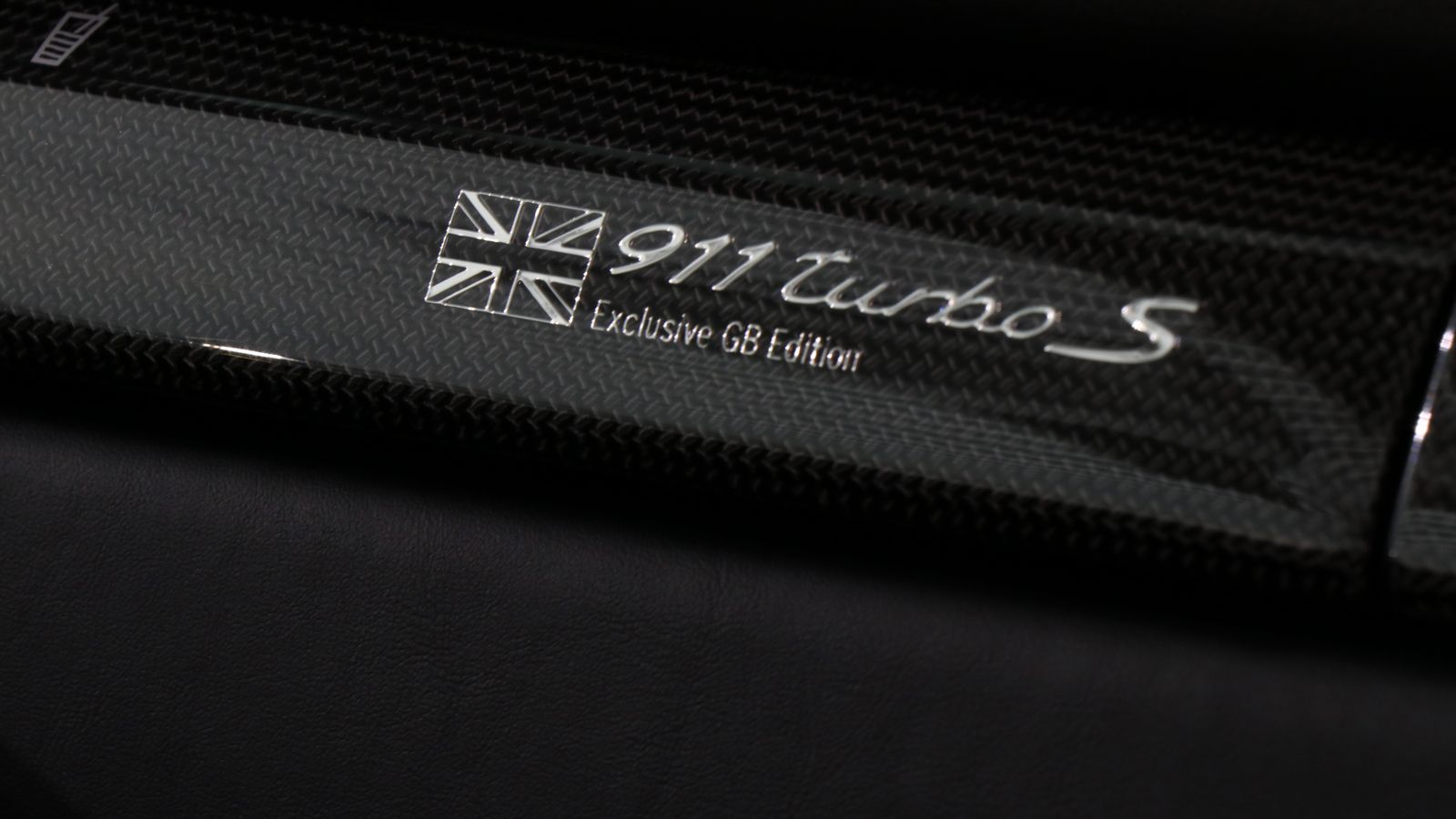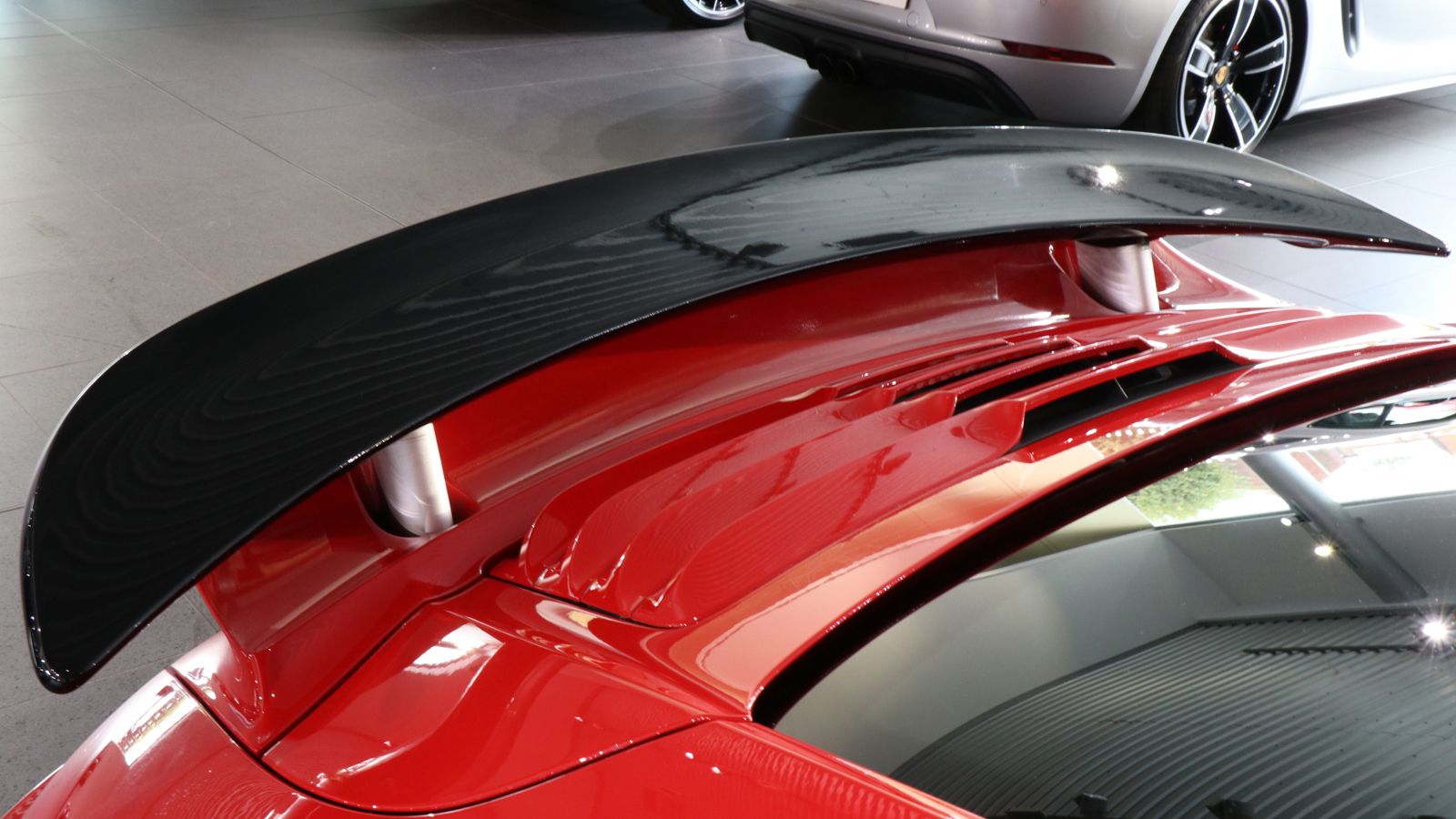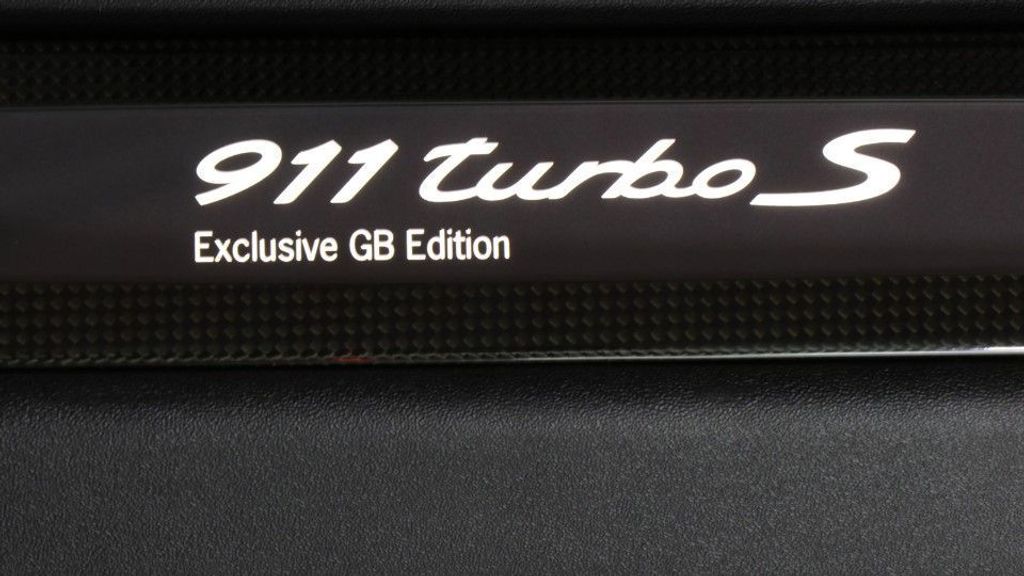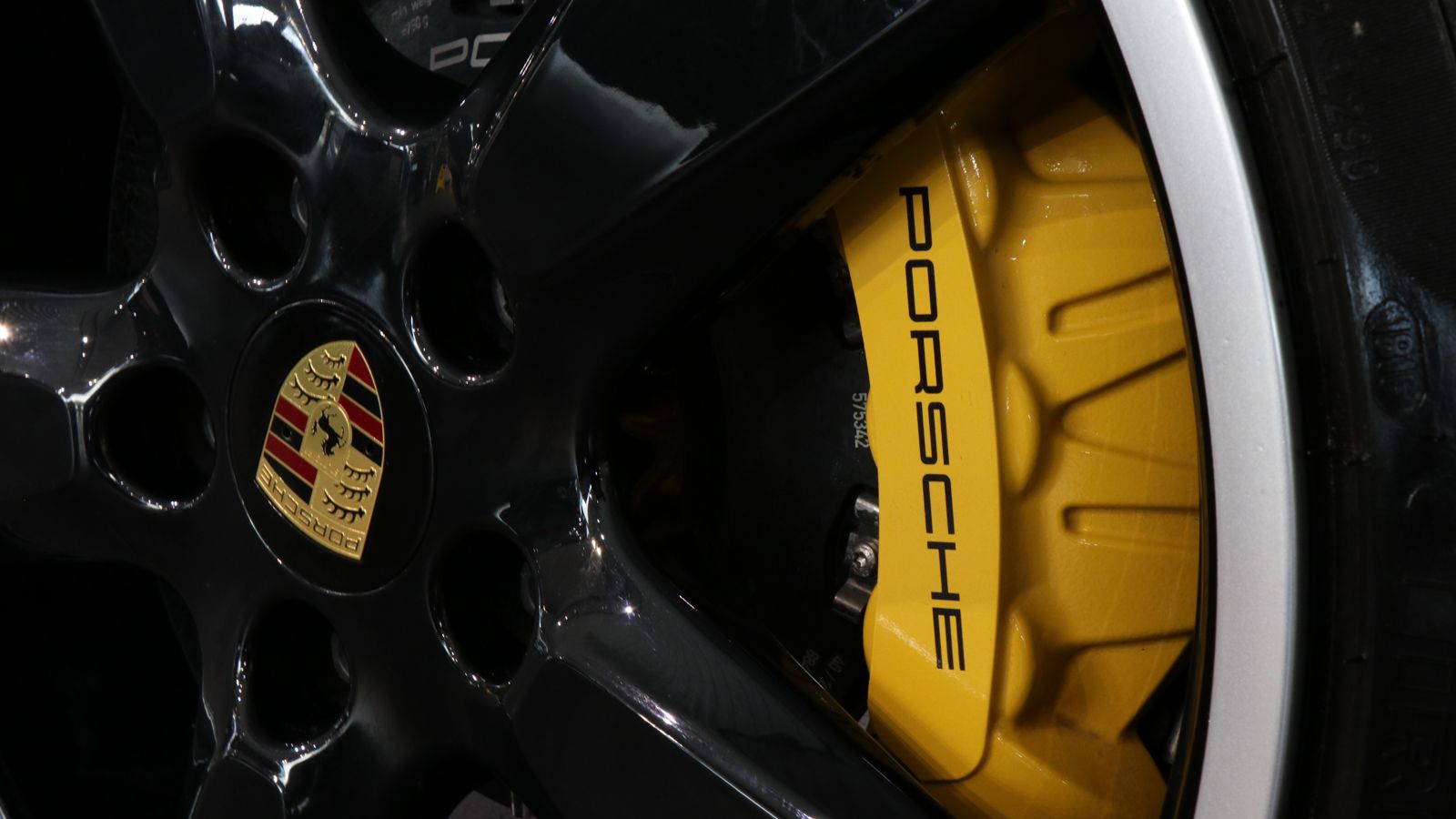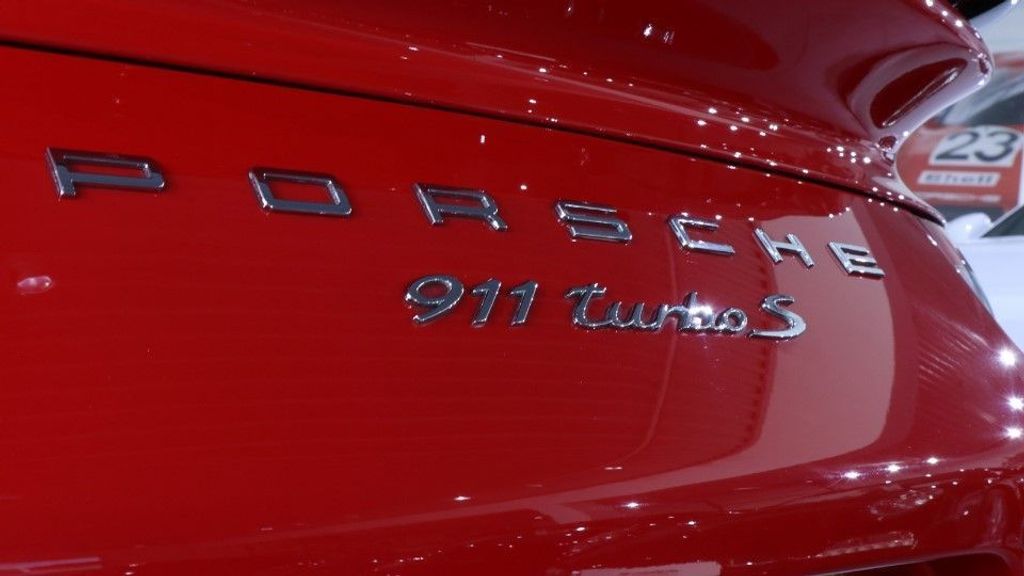 The Porsche 911 Turbo S Exclusive GB Edition has the amazingly powerful 3.8-litre, turbocharged, flat-six engine. This engine everyone knows being a Turbo S provides breath taking performance producing 560 BHP. This means the performance is 0 to 62 mph in just 3.01 seconds (and we all know Porsche is conservative with its figures with car testers claiming 2.6 seconds) and the incredible top speed of 197 mph.
Monitoring the number of Licensed & SORN
The website "how many left" monitors the database for vehicles on a quarterly basis and reports the number of vehicles registered as licensed or SORN. This data shows that only 37 officially have been registered for road use and 3 have been registered SORN as the cars have been released. We know Porsche has kept one vehicle, maybe they have kept more or Porsche investors have brought two vehicles for the future value these special edition cars are likely to have.
With 37 cars on the road, these are even rarer.
Autogespot determines this to be a special model
The petrol head followers using the Autogespot for capturing special cars has a dedicated section for this GB Edition and users upload their spots of this model. Only special cars that are worthy of collecting images appear in the library of cars worthy for users to photo and upload.
Autogespot is an international platform where car enthusiasts meet, share photo's and get the latest updates about exotic cars. Autogespot is built for the fans of supercars by the fans themselves.
The Porsche 911 Turbo S Exclusive GB Edition qualifies as a showpiece purchase
This Porsche 911 Turbo S Exclusive GB Edition qualifies as a showpiece purchase and the price new was £150,237 which due to demand and Porsche collectors in Great Britain wanting a piece of Porsche history the prices of these in the second-hand market place are likely to increase for the low mileage perfect examples.
For the moment the 40 British customers who manage to get one will have a special treat of owning one.
GB Edition Options Include:-
PDK Gearbox
Ceramic Breaks
Sports Chrono Package Plus
Carbon Fibre Dashboard Trim
Carbon Fibre Centre Console Trim
Carbon Fibre Door Panel Trim
Bose Sound Package
PCM 3 Basic Module Including Radio
Telephone & Extended Navigation
PDK Gearbox
Ceramic Brakes
Sports Chrono Package Plus
Carbon Fibre Dashboard Trim
Carbon Fibre Centre Console Trim
Carbon Fibre Door Panel Trim
Bose Sound Package
Exclusive Features include:-
20" Sport Classic Alloys Painted High Gloss Black
Exclusive GB Edition
PDK Selector In Carbon Fibre
Sports Seat Plus Package With Leather Backrests
Electric Exterior Sliding Metal Roof
Front Adjustable Seat Heating
Front & Rear ParkAssist + Rear Camera
Online Services (Internet)
Interior Light Package
Vehicle Key Painted
Guards Red Seat Belts
Personalised Floor Mats With Leather Edging
Illuminated Door Entry Guards
Porsche Crest Embossed in Headrest
Door Panel Package In Leather
Rear Compartment Trim Package In Leather
Rear Leather Central Tunnel
Steering Column Trim In Leather
Privacy Glazing
Headlight Washer System Cover Painted
Porsche 911 Turbo S Exclusive GB Edition Is One For Future Investments
Due to the limited numbers of 40 vehicles, they are hard to find and a low mileage example with original build documentation is well worth purchasing for any Porsche collector.
Porsche 911 Turbo S Exclusive GB Edition Models For Collectors
There are even limited-edition models that have been made to celebrate the build of this special model. These are even collector's items themselves limited to 350 pieces.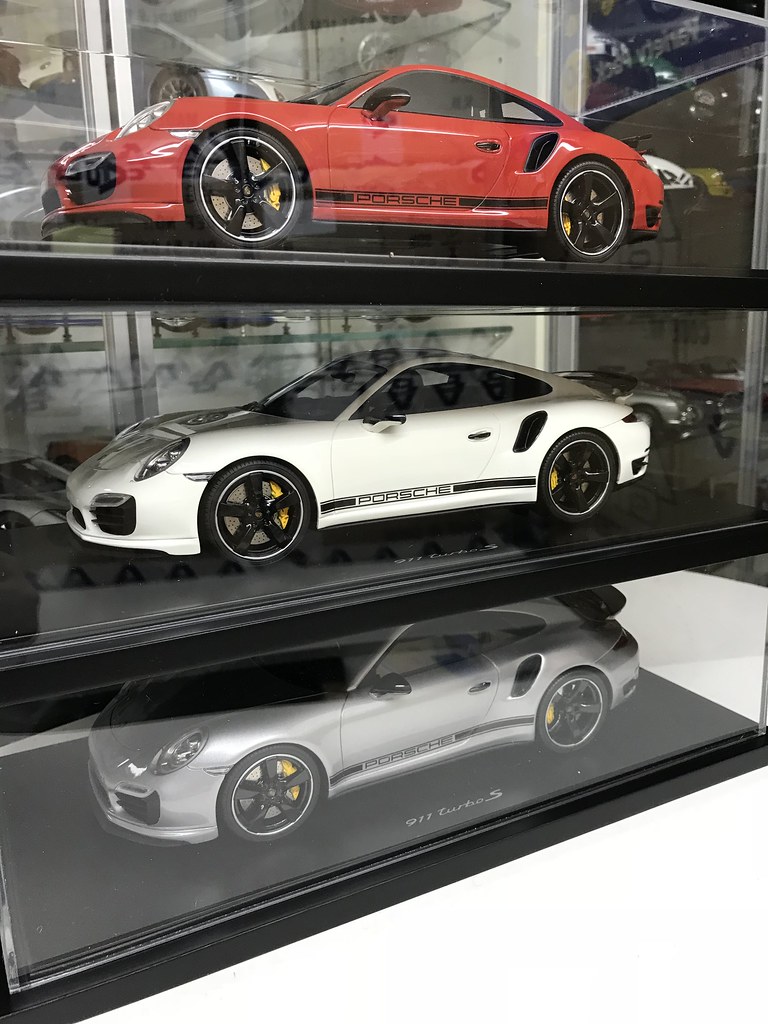 Porsche 911 Turbo S is an amazing car
PORSCHE EXCLUSIVE UNVEILS 911 TURBO S GB EDITION PRESS RELEASE
Bespoke Porsche 911 Turbo S Exclusive GB Edition is unique to the UK market, limited to 40 examples
Designed and manufactured by Porsche Exclusive, a department of the factory dedicated to providing customers with special vehicles which fulfil their special wishes
911 Turbo S Exclusive GB Edition celebrates 40 years of the 911 Turbo, with distinctive exterior styling and luxurious interior features
A sports car icon since 1974, the 911 Turbo remains a benchmark high performance coupé
911 Turbo S Exclusive GB Edition features a 560 hp flat-six twin-turbo engine
Available to order now from Porsche Centres, priced from £150,237
Over four decades, the reputation of the Porsche 911 Turbo as a technology showcase combining the virtues of a circuit race car with those of an everyday road car has consistently reached new heights. Since it first went on sale in 1974, the Porsche 911 Turbo has become revered by car enthusiasts and is renowned as a benchmark high performance sports coupé.
In 1986, Porsche became the world's first car manufacturer to establish a specialist department at the factory dedicated to tailoring cars to bespoke requirements. Porsche Exclusive provides customers with a unique vehicle that meets all of their special wishes – in terms of both styling and performance. But besides offering custom manufacturing, Porsche Exclusive also builds extraordinary limited series cars.
With the unveiling of the Porsche 911 Turbo S Exclusive GB Edition, the enduring appeal of the rear-engined, turbocharged 911 and the tradition at Porsche of building cars for the individual are combined in a coupé that is both the pinnacle of the 911 range and also the height of individuality.
As the name suggests the new 911 Turbo S Exclusive GB Edition is unique to the UK market and will be offered in a limited edition of 40, priced from £150,237. Available to order now, each car will be delivered together with a personal photo book documenting the production process, a bespoke Exclusive GB Edition indoor car cover and unique design sketches.
911 Turbo S Exclusive GB Edition
An all-wheel drive chassis with active rear axle steering, adaptive aerodynamics, full-LED headlights and a 560 hp flat six-cylinder twin-turbocharged engine emphatically underline the sporting character of the 911 Turbo S, on which the Exclusive GB Edition is based.
The Porsche Dynamic Chassis Control (PDCC) active anti-roll system further increases the handling capability. Aided by the Sport Chrono Package Plus incorporating dynamic engine mounts, and Porsche Ceramic Composite Brakes (PCCB), the 911 Turbo S can sprint from 0 to 62 mph in just 3.1 seconds and on to a top speed of 197 mph. The benchmark lap time around the Nürburgring-Nordschleife is 7 min 27 secs.
To this, the 911 Turbo S Exclusive GB Edition adds unique features carefully chosen to build on the compelling dynamic attributes and iconic silhouette of the standard coupé. Taking their cue from subtle styling motifs of the original 911 Turbo '930' from 1974, the limited edition stands out clearly as the ultimate – and most Exclusive – 'Type 991' 911.
In profile, the 911 Turbo S Exclusive GB Edition shows a clear link to the first 911 Turbo – the black rear upper spoiler, Sport Classic wheels in black, black finished exterior door handles, and the black 'Porsche' script along the sills pay homage to its illustrious forebear. Inside, the black leather upholstery features Guards Red contrasting stitching and unique highlights include an embossed Union flag on the centre storage compartment lid.
Special features of the 911 Turbo S Exclusive GB Edition are:
Choice of three exterior colours: GT Silver metallic, White, Guards Red
Contrasting exterior features in high gloss black: 20-inch Sport Classic alloy wheels, upper part of rear spoiler, SportDesign wing mirrors, exterior door handles
Porsche logo script in black along door sills
Storage compartment lid with embossed Union flag
SportDesign steering wheel with centre marking in Guards Red and rim with Guards Red stitching
Black leather interior with Guards Red stitching
Privacy glazing
Porsche crest embossed on head restraints
Seat belts in Guards Red
Personalised carbon door sill guards with '911 Turbo S – Exclusive GB Edition' in illuminated lettering
Carbon interior trim, including PDK gear lever, with chrome logo on dash insert
Bespoke floor mats with leather edging and decorative stitching in Guards Red
Complementary accessories including personalised indoor car cover, a unique photo book and key pouch in leather with decorative Guards Red stitching
Porsche Exclusive – an overview
At Porsche, a guiding principle has always been to allow each customer to create a highly personal car, with the opportunity to choose from a wide range of styling, powertrain and chassis options. The ultimate expression of this philosophy is Porsche Exclusive, via which customers can create an entirely bespoke vehicle.
From the earliest days of the company, Porsche customers have been able to ask the factory to modify their cars for road or racing purposes. In 1986, the Porsche Exclusive manufacturing department was established.
The first Porsche Exclusive limited production car was the 911 Turbo 'Flachbau' (flat nose) whose rakish front styling with pop-up headlamps was inspired by the 935 race car. A total of 984 examples were built between 1982 and 1989.
In 1992/93, a lightweight version of the 'Type 964' 911 Turbo S was built in co-operation with Porsche Motorsport. Featuring a 381 hp engine and a 180 kg weight saving versus the standard car, 86 examples of this 'Supercar Champion' edition were sold.
A very limited run of just 15 examples of the 911 Carrera 2 Speedster were built in the coveted wide-body 'Turbo-look' in 1993, plus 76 editions of the 911 Turbo 3.6-litre with 'flat nose' styling. Two years later, 14 units of a 'Type 993' 911 Turbo Cabriolet were created. These editions are eclipsed in rarity by the two 'Type 993' 911 Speedsters that were specially built.
In 1997/98, the Exclusive department produced 345 examples of the 911 Turbo S, an edition of the Turbo with 42 hp more than the standard production model.
Porsche Exclusive revived the tradition of limited series production at the IAA in Frankfurt in 2009, with the unveiling of the 911 Sport Classic. With just 250 built, the Sport Classic featured a powerful 408 hp flat-six engine, a unique exterior featuring 'duck tail' rear spoiler inspired by the Carrera 2.7 RS and a bespoke interior – and it sold out quickly.
To celebrate the 25th anniversary of the Exclusive department, the 911 Speedster was based on the Type 997 Carrera S, and limited to just 356 units. This number referred to the 356 Speedster which inspired the design, featuring a lower windscreen and purpose-built lightweight folding roof.
The technology of the 911 Turbo S
The performance partners in the powertrain are an advanced engine and Porsche Traction Management (PTM) all-wheel drive system. The turbocharged 3.8-litre flat-six engine with direct petrol injection produces 560 hp (412 kW). Porsche continues to be the only car maker to offer twin turbochargers with variable turbine geometry on a petrol engine.
Power is transferred to the drivetrain via a seven-speed dual-clutch transmission (PDK), which enables an auto start/stop function with engine shut-off that now activates earlier (when coasting to a halt) as well as the proven coasting function. Together with a new thermal management system for the turbo engine and the PDK transmission, fuel efficiency technologies have reduced NEDC fuel consumption by up to 16 per cent to 29.1 mpg.
All-wheel drive with electro-hydraulic control
For an even faster and more precise power distribution to the two axles, Porsche has developed a new all-wheel drive system (PTM) with an electronically controlled and activated multi-plate clutch for the latest 'Type 991' generation of 911 Turbo S. The system is equipped with a new water cooling function, so that it can direct even more drive torque to the front wheels if necessary. Simultaneously, the optimised interplay of the engine, transmission and all-wheel drive systems delivers even better sprint capabilities.
Rear axle steering sustainably improves handling
The introduction of rear axle steering to all 911 Turbo models improves both track driving and everyday performance of the two new sports cars immensely. Instead of conventional control arms, the system consists of two electro-mechanical actuators on the left and right of the rear axle. The steering angle of the rear wheels can be varied by up to 2.8 degrees, depending on vehicle speed. At speeds up to 31 mph (50 km/h), when the front wheels are turned the system steers the rear wheels in the opposite direction. This actually corresponds to a virtual shortening of the wheelbase by 250 mm, which gives the 911 Turbo unrivalled cornering agility. The system lets the car turn faster into the bend and offers more dynamic steering responses. Furthermore, this noticeably simplifies low speed manoeuvring and parking.
At speeds above 50 mph (80 km/h), the system steers the rear wheels parallel to the turned front wheels. This is equivalent to a virtual lengthening of the wheelbase by a significant 500 mm and gives the sports car tremendous stability, especially at high speeds. At the same time, the steering input by the driver leads to significantly faster build-up of lateral force at the rear axle, which initiates the change in direction more spontaneous and harmoniously.
Active aerodynamics improve efficiency and performance
Porsche has developed an active aerodynamic system on the new 911 Turbo models. It consists of a sturdy, retractable three-stage front spoiler -- whose segments can be pneumatically extended -- and a deployable rear wing with three adjustable positions. This makes it possible to tune the aerodynamics of the 911 Turbo to fulfil driver wishes for either optimal efficiency (speed position) or ultimate dynamic performance.
In the performance position, all segments of the front spoiler are fully extended, and they generate considerable downforce on the front axle. Similarly, the rear wing is extended to its maximum height with the greatest angle of attack. This also generates more downforce on the rear axle. The extent to which this system improves dynamic performance is demonstrated by the fact that it can reduce lap times around the Nürburgring-Nordschleife by up to two seconds.
Ends
For more information, please contact the Porsche press office team:
Porsche 911 Turbo S Exclusive Series
Following on from the success of the GB model Porsche introduced a limited edition of the 911 Turbo S. It is called the 911 Turbo S Exclusive Series Limited to 500 units worldwide.